HOW TO TAKE LINZESS
WHY TAKING LINZESS AS DIRECTED MATTERS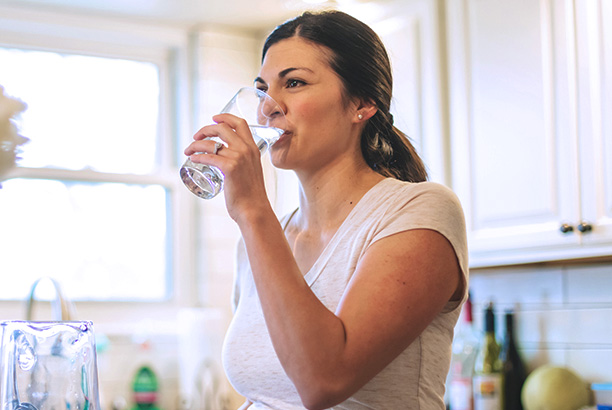 HOW TO TAKE LINZESS
WHY TAKING LINZESS AS DIRECTED MATTERS
Once you've been prescribed LINZESS, it's important to stay on top of your treatment: If you stop taking your medication, your symptoms could return in about a week. Take the medication as recommended by your doctor and keep them informed about your experience with LINZESS.

… EVERY DAY For LINZESS to work best, take it every day. This is different from over-the-counter laxatives, which are often taken as needed.
When LINZESS is taken daily, constipation relief is typically felt in about 1 week. IBS-C patients may begin to experience relief of belly pain and overall abdominal symptoms* (pain, discomfort, and bloating) in about 1 week, with symptoms typically improving over 12 weeks.

… ONCE A DAY If you miss a dose, take your dose as usual the following day. Do not take 2 doses at the same time to make up for a missed dose.

… ON AN EMPTY STOMACH Take your pill, as prescribed by your doctor, at least 30 minutes before your first meal at about the same time of day.

… WITH APPLESAUCE OR WATER, IF NECESSARY If you have trouble swallowing capsules, carefully open the LINZESS capsule and sprinkle all of the LINZESS beads onto applesauce or into 1 oz. (30mL) of water.
Want to get off to the right start with LINZESS? Watch this short video where Dr. Darren Brenner shares 4 key points about how to take LINZESS and what to expect in terms of symptom relief and common side effects.
"The purpose of this short video is to provide you with some important clinical information that may assist you in achieving a successful outcome when taking LINZESS."
Dr. Darren Brenner,
Northwestern University
Feinberg School of Medicine
GET TREATMENT TIPS, DAILY MEDICATION REMINDERS & MORE
Whether you already take LINZESS or are just starting treatment, get wellness tips, helpful tools, and more by enrolling in our From the Gut℠ patient support program.

SIGN UP FOR SUPPORT
You'll receive a From the Gut℠ digital cookbook featuring gut-friendly recipes after joining!
SIGN UP

GET DAILY REMINDERS
Text "ENROLL" to 70128* to sign up for your LINZESS reminder. After answering a few quick questions, you'll receive daily SMS text reminders at the time of your choosing.
TEXT ENROLL TO 70128*
BE PROACTIVE WITH YOUR TREATMENT

UPDATE YOUR DOCTOR
It's important to keep your doctor informed about how LINZESS is working for you. Let them know how it may be helping to manage your IBS-C or CIC symptoms and if you're experiencing any side effects.

REFILL ON TIME
Your local pharmacy may offer refill reminders—ask your pharmacist about signing up. Can't make it to the pharmacy for a while? Notify your doctor or pharmacist to ensure you have enough medication. You may also want to check if your pharmacy offers delivery services.
Remember to store LINZESS at room temperature (68°F-77°F). It's important to keep LINZESS in the bottle it comes in. Keep the LINZESS bottle tightly closed, in a dry place, and leave the desiccant (the drying agent that looks like a small cloth packet) in the bottle. Keep LINZESS out of the reach of children.
Please see Medication Guide for full instructions.
*By texting ENROLL to 70128, you consent to receive automated and recurring text messages from From the Gut℠ regarding the From the Gut℠ program, including enrollment instructions, patient support communications and medication reminders, to the mobile number that you used to enroll. You are not required to consent or provide your consent as a condition of receiving any goods or services from From the Gut℠. Message and data rates may apply. You also agree to the additional Terms and Conditions. Click AbbVie Privacy Policy for additional information about AbbVie's privacy practices or click Ironwood Privacy Policy for more information about Ironwood Pharmaceuticals' privacy practices.