HOW DOES LINZESS HELP WITH FUNCTIONAL CONSTIPATION?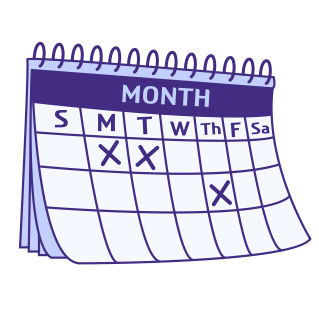 BY MANAGING INFREQUENT BOWEL MOVEMENTS
This was seen in a clinical study of patients 6-17 years of age with functional constipation.
LINZESS IS NOT A LAXATIVE
LINZESS is the first and only FDA-approved prescription treatment for pediatric functional constipation, and is in a different category of drugs than over-the-counter laxatives. If your child has functional constipation, your doctor can prescribe one 72-mcg LINZESS pill, just once a day—there's no need to measure or adjust doses.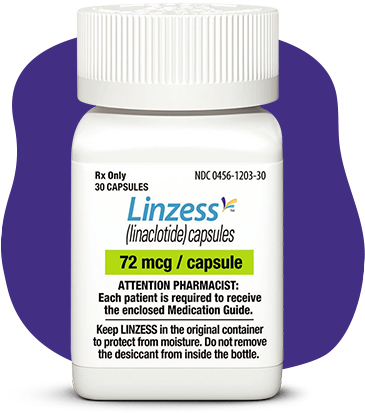 YOU MAY PAY AS LITTLE AS $30* FOR YOUR CHILD'S LINZESS PRESCRIPTION
Find out if you qualify for the LINZESS Savings Program and start saving on your child's prescription of LINZESS. 
GIVING YOUR CHILD LINZESS
Once you and your child's doctor have decided to start your child on LINZESS, it's helpful to think about how to make LINZESS part of your child's daily routine. Here are useful tips to keep
in mind. 
Your child should take one 72-mcg dose of LINZESS as recommended by their doctor: 
EVERY DAY
For LINZESS to work best, your child should take it every day at about the same time, which is different from over-the-counter laxatives that are often taken as needed.

ONCE A DAY
If your child misses a dose, skip the missed dose. The next dose should be taken as usual the following day. Two doses should not be taken at the same time to make up for a missed dose.

ON AN EMPTY STOMACH
You should give your child LINZESS at least 30 minutes before a meal at about the same time of the day. Be sure to follow any other instructions prescribed by a doctor.

WITH APPLESAUCE OR WATER, IF NECESSARY
If your child has trouble swallowing capsules, you can open the LINZESS capsule and sprinkle all of the LINZESS beads onto applesauce or into 1 oz. (30mL) of water.
GET STARTED WITH A LINZESS SAVINGS CARD
There are several convenient ways to sign up for the LINZESS Savings Program:

After answering a few questions to confirm your eligibility, you'll receive an activated LINZESS savings card.
*Maximum savings limit applies; patient out-of-pocket expense may vary. This offer is available to patients with commercial insurance coverage and a valid LINZESS® prescription. Offer not valid for patients enrolled in Medicare, Medicaid, or other federal or state healthcare programs. This offer is not valid for cash-paying patients. Please see Program Terms, Conditions, Privacy Notice, and Eligibility Criteria.
**By texting LINZESS to 59257, you will receive your activated savings card. 10 msgs. per enrollment activation. Message and data rates apply. Reply HELP for help; reply STOP to cancel. Consent not required to purchase goods/services. Please see full Terms and Privacy Policy.